Wellness
Products pictured on this page are not to scale.
Q-Link
For enhanced wellbeing, performance, and quality of life.
Q-Link Acrylic SRT-3 Pendant ( Black) pictured. Pendants in other materials and colors are also available, plus other products to enhance the Q-Link experience.
Visit the official Q-Link website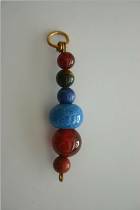 Breathe Easy Crystal Catalyst Pendant
For those who suffer from cardiopulmonary insufficiencies. Originally created in the early 70s, this pendant was the first of a series of custom-made "gemstone battery" pendants known as Crystal Catalyst Pendants; the Breathe Easy pendant was specifically designed as a response to real-life circumstances, to provide the wearer with a vibrational, energetic defense against exposure to seasonal illnesses.
Contains Carnelian, Tiger Eye, Lapis Lazuli, Turquoise Crystal Catalyst Bead, Carnelian Agate, Red Jasper.
Measures approximately 1 and 3/4″ in length.
Click here for similar Crystal Catalyst Pendants designed to positively affect the personal energy field and address specific issues and concerns, and help attract specific situations into a person's life.
$40.00
Coming Soon
We are currently trying out a very exciting wellness product from this company and are waiting to be able to promote it on this website, hopefully in the not too distant future.
Coming Soon
We are currently working to promote another exciting wellness product from this company and should have information about it very soon.
Please follow us on Facebook