Wellness
Products pictured on this page are not to scale.
Q-Link
For enhanced wellbeing, performance, and quality of life.
Q-Link Acrylic SRT-3 Pendant ( Black) pictured. Pendants in other materials and colors are also available, plus other products to enhance the Q-Link experience.
Visit the official Q-Link website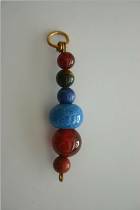 Breathe Easy Crystal Catalyst Pendant
For those who suffer from cardiopulmonary insufficiencies. Originally created in the early 70s, this pendant was the first of a series of custom-made "gemstone battery" pendants known as Crystal Catalyst Pendants; the Breathe Easy pendant was specifically designed as a response to real-life circumstances, to provide the wearer with a vibrational, energetic defense against exposure to seasonal illnesses.
Contains Carnelian, Tiger Eye, Lapis Lazuli, Turquoise Crystal Catalyst Bead, Carnelian Agate, Red Jasper.
Measures approximately 1 and 3/4″ in length.
Click here for similar Crystal Catalyst Pendants designed to positively affect the personal energy field and address specific issues and concerns, and help attract specific situations into a person's life.
$40.00

The Quantum Pulse
Improve the quality of your life by bringing your vibrational level back to its natural state of being.
We offer sessions with our Quantum Pulse machine for our clients in the Longmont / Boulder area of Colorado, USA….learn more.
Reiki
Reclaim Your Connection to Body, Mind, and Spirit through the Miracle that is Reiki.
Are you looking for a type of body/energy work that is gentle yet profound, and that can assist in healing not only the physical but the mental, emotional, and spiritual? Something that feels so good to receive yet leaves you far better for having received it. If so, Reiki may be a very good choice for you….learn more.

Please follow us on Facebook